You can also use a DVI to HDMI cable if you want but remember that DVI does not transmit audio signals, so you will also need an HDMI to DVI adapter for audio output.
Connect CCTV Camera to TV using AV (Composite) Cable
With the rise in popularity of surveillance systems and IP cameras, the need for connecting them to our TVs has also risen.
A composite connection is one of the most basic ways of connecting a CCTV camera to a TV set. This method uses an RCA converter that you plug into a BNC cable coming out of your camera and into the AV input on your TV set.
You can find these converters at any electronics store.
The most obvious limitation of this method is that composite cables are not capable of transmitting HD quality signals, so if you have an HD camera, this will not be the best option for you.
Connect CCTV Camera to TV using VGA Cable
To do this, you will require a CCTV Camera that sustains AV-out or VGA-out functions. Most cameras support this. If you are not convinced, read the manual guide for your camera.
Most CCTV camera systems come with a BNC connector and an RCA connector. BNC is used to transmit video, and RCA is used for audio.
Next, you need a VGA cable (VGA to VGA) and an RCA cable for audio (2 RCA male to male). The RCA will be connected to the TV, and the VGA cable will be connected to the computer monitor or LCD.
As such, you would have both video and audio on your LCD/Monitor/TV.
Connect CCTV Camera to TV using Component Cable
For this method, the first step involves plugging the power adapter into a power outlet and running the cable to your camera.
The next step is to connect the component video output on your security camera to the component video input on the back of your TV.
You can now turn on the TV and switch to component video input by pressing the Input (or Source) button on the remote control. You will see the live camera image on the screen.
To use a second or third security camera, you need to buy an additional component video cable for each camera.
Since most TVs only have one component video input, you will need a component video switch box to connect more than one camera at a time.
Connect CCTV Camera to TV using a USB cable
This is one of the easiest ways to connect the camera to a display device like a TV, LCD, or monitor. Most security cameras now come with a USB port compatible with a personal computer.
The CCTV Camera installation to TV using a USB cable will convert the video feed into a digital file viewed on a computer monitor.
These surveillance cameras are commonly used in places like banks and retail stores where employees need to monitor their beliefs from a distance. The camera will scan for suspicious activity without leaving their desks.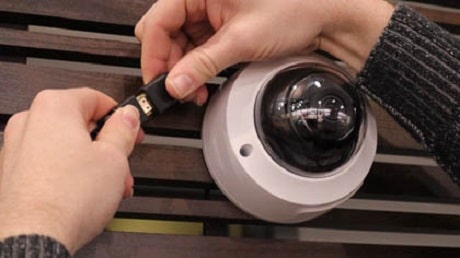 The best advantage of this type of camera is that it does not require any interaction between the employee and the customer.
This makes it easier for them to keep an eye on what is happening without leaving their posts or making any physical contact with customers.
Final Thoughts
Many people have their CCTV cameras at home. Ideally, the best way to view a CCTV camera's live security video footage is through a DVR (digital video recorder).
Nevertheless, if you do not have one, you can use the other methods that we have discussed above.